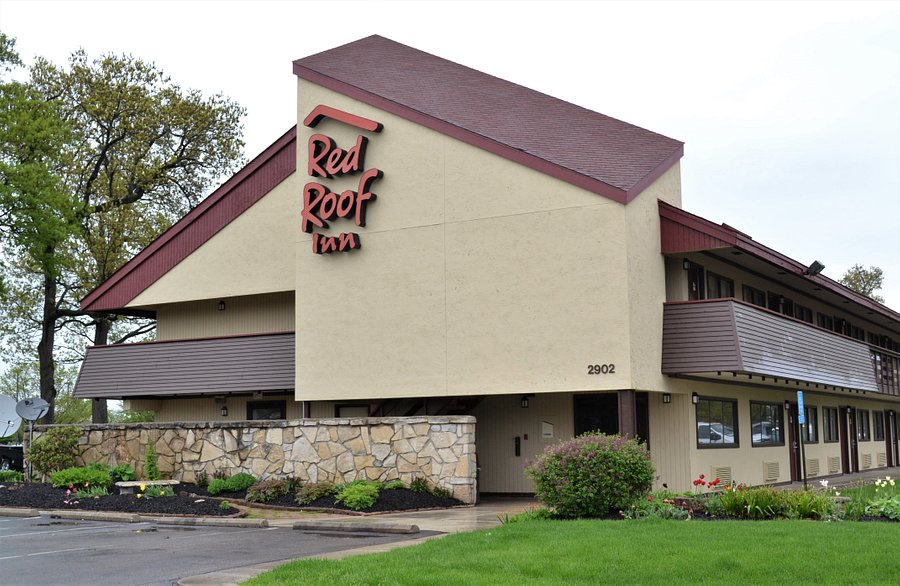 Redroof Inn
Address: 2902 Cassopolis St, Elkhart, IN 46514
Phone: (574) 262-3691
Cost about $57.00 a night with all taxes
We only stayed here a few hours one time so we don't really have much knowledge as for pros or cons. NOTE because we personally did not like staying here, we do hear many positives from others so we are listing it on our resources with our views listed below.
We were told it was a non smoking hotel, upon entering our room it more or less smelled like someone who stayed before us was smoking in the room, we don't smoke and have no problems with people who smoke however we personally do not want to stay in a room that smells like smoke as it gets all over our clothes and makes us stuffy
the parking lot is pretty small so parking our truck next to the other trucks was pretty tight, all the rooms are on the outside so it's easy to keep an eye on your truck.  as for trailer parking it looked as though people were parking on the access road next to the parking lot.
The staff were nice and helpful and even suggested ways to do a points plan to earn free nights, so if you plan to stay here check on that.
We did get a loud knocking on our door at 6am, when we looked out nobody was there. this is one of the reasons we do not like hotels with the doors facing the parking lots.
We have also been seeing reports of peoples RVs being damaged and batteries being stolen, we know this can happen anywhere at anytime but we recently over the past few weeks seen three different post on batteries from people staying at this location, so just be aware of our surroundings and remove your batteries and make sure anything in your vehicle is hidden from view or take it all into your room if it's valuable.
after staying here one night we switched to the Garden inn across the street and with all their cameras, onsite security and inside rooms and no odors of smoking inside the rooms we feel more comfortable.